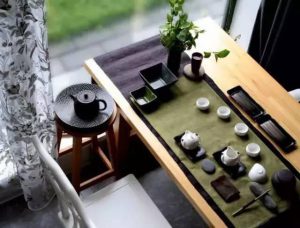 中国有句古话"民以食为天"。我们每天都离不开的就是美食。如何可以让我们烹饪的食品具有生命力和意义,这需要一定的技巧和知识。我相信熟食同样具有多彩的生命力,都表现在色、香、味之中。所有的食材本身就是维持人类生命的来源,当我们看到眼前摆放着天然色彩、新鲜、洋溢飘香、味道诱人的美食时,自然胃口顿开,食欲大增。这就是烹饪后,食品向我们呈现出它们的诱惑力和能量。所以我认为食物是有生命的,无论它们是生还是熟,食材的来源和烹饪技巧,起了重要的决定因素,再者就是我们怎么把它们的功能发挥得淋漓尽致。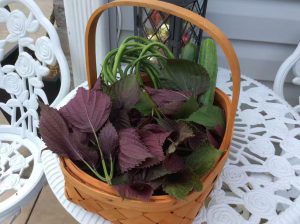 在元旦节来临之际,介绍如何制做,具有思乡情怀的"香辣紫苏酱"。
材料:紫苏叶1磅,红泰椒25个,蒜头3大个,橄榄油1cup, 盐1茶匙,黑胡椒碎1茶匙。
做法:洗干净紫苏叶和红泰椒,晾干剁碎,蒜头剁碎。把所有材料都放进瓶子里,搅拌均匀待用。
紫苏酱可以用来送面条吃或用作火锅酱料。还可以用来炒鸡,炒贝壳类海鲜等,有去腥的作用。
紫苏既是香料又是药材,有补气宽中、发表散寒的作用。
欢迎投稿《品味生活》,关于美食烹饪,户外活动,艺术与音乐,家居装饰,旅游等。在这互动平台,学习探讨,交流信息。
联系人:Angel
投稿邮箱:mbChineseCommunity@gmail.com
古筝曲:梦江南
Translated by Mei
China has an old say:"Food is the livelihood of people." We need food everyday, how can we make cooking more fun and meaningful, that requires some knowledge and skills. I also believe that food has life when it's raw or even if it has been cooked. The life shows through it's color, aroma, and taste. Whenever we smell delicious food or see plates of fresh, colorful mouthwatering dishes in front of us , we just naturally feel an urge and appetite. Of course cooking techniques play a very important role well as which ingredients are used and how fresh they are.
Next, I want to show you how to make a spicy basil sauce.
Ingredients:
1 lb purple basil leaves
25 pieces of red Thai chili peppers
3 cloves of garlic
1 cup of olive oil
1 teaspoon of salt
1 teaspoon of ground black peppers
Clean and wash basil and Thai chili peppers. Let dry or pat dry with paper towel. Coarsely chop the basil and the red Thai chili peppers. Mince garlic. Combine all of the ingredients in a large bowel. Mix well. Store the sauce in an airtight container and refrigerate.
You can use on pasta, as the base for hot pot, or as a sauce for stir fried chicken or seafood.